3200 Old Jennings Rd.
Middleburg, FL 32068
3267 Hodges Blvd. #13
Jacksonville, FL 32224
Coronavirus Concerns & Precautions
COVID-19 INFO & PATIENT SAFETY
As our state prepares to reopen and enter phase I, we are excited about getting back to work. With the Governor's latest mandate, we can open our doors, but in a very limited capacity. Here is what you need to know:
If you have previously scheduled an appointment for that week, PLEASE LET US KNOW if will be keeping your appointment or if you do not feel comfortable coming in yet. We have several families that need to be seen because we have been closed since 3/17, so don't worry about us if you need to reschedule your appointment.
If you had an appointment that was canceled due to COVID between 3/17 to 5/8, please be patient as we work to reschedule everyone. We will be opening additional Fridays at both offices in June and July to help accommodate the backlog. Emergencies who are in pain will take precedence.
If you are 19 and older and have a hygiene or perio maintenance appointment scheduled after 5/8, it will be rescheduled to August. While your dental health is important, our priority at this time is the children of the practice. We understand if you need to make an appointment elsewhere during this time.
All parents and patients will be required to have their temperature taken when entering the building. If your temperature is 100.4 or higher, you will need to reschedule your appointment.
When you arrive for your appointment, please come inside to check in and answer pre-screening questions then head back out to wait patiently in your vehicle. A staff member will text you when it is time to come back inside for your appointment. We ask that you arrive 10 minutes early as this is a new system in our office.
We ask that you only bring children that have actual appointments. Please make arrangements for siblings and friends visiting your children while out of school. You will be asked to have an adult sit in the car with children not scheduled or to reschedule your appointment.
If you or your child has been exposed to COVID-19 in the last 14 days, please reschedule your appointment.
If you or your child is experiencing a cough, fever, shortness of breath, headache, or sore throat, please reschedule your appointment.
If you are caring for elderly loved ones at home, please call to reschedule your appointment.
Video games will not be on at the office. Please bring your own child's device for entertainment while waiting.
All new patient paperwork must be completed online prior to your appointment. If you need us to resend the link, please let us know.
We are doing our part to keep you healthy and safe. We have invested in air and surface purifiers that oxidize and destroy bacteria and virus aerosols in the air and on all surfaces. We are also using ozone water in our dental units to prevent the spread of disease. If you would like to read the research that outlines these measures, please send an email to drgary@tooth2tooth.com.
We understand that these new protocols may seem a bit extreme and unwelcoming. Please know that is not our intention. We are not able to run at full capacity just yet, so please be patient with our staff as they work to reschedule all patients affected by this unfortunate and untimely closure. We appreciate your understanding and continued patronage.
Dr. Gary & Staff
CLEAN AIR - CLEAN TEETH!
Our state-of-the-art air purification systems are keeping you safe at Myers PDO.
Treating the air in our office with ActivePure &reg Technology removes over 99.9999% of airborne contaminants and RNA viruses.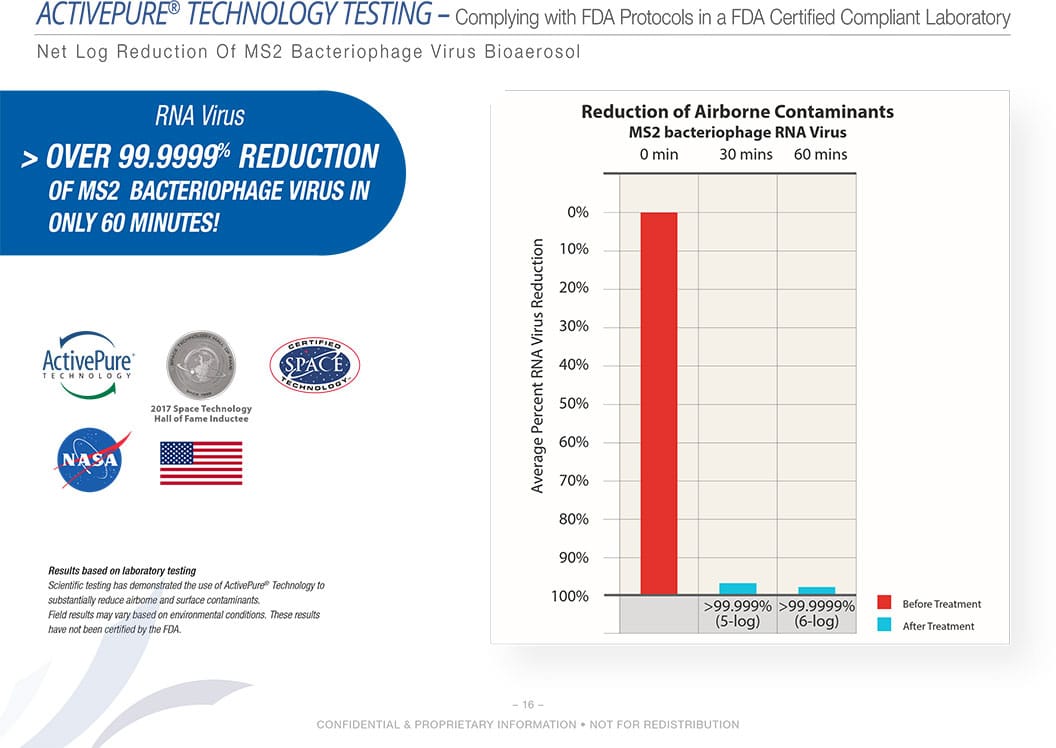 "NASA-Based ActivePure Technology® Rapidly Eliminates 99.9% of Airborne SARS-CoV-2 Virus in FDA-Compliant Military Lab Tests. ActivePure Technologies, LLC, announced that its air purifying technology inactivated over 99.9% of highly concentrated airborne SARS-CoV-2 virus in an enclosed setting in just 3 minutes, below detectable levels. Testing of the ActivePure Technology® was conducted by one of the world's top biosafety testing facilities, the University of Texas Medical Branch (UTMB), which primarily tests for the U.S. military and the Centers for Disease Control (CDC)."
To continue reading this article, CLICK HERE.